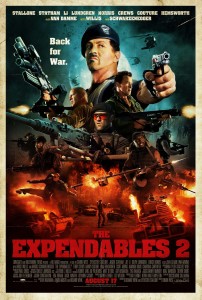 A new behind-the-scenes featurette for The Expendables 2 has been released.
The new film sees Sylvester Stallone and his gang of mercenaries out for revenge and going up against the bad guy played by former 'good guy' Jean-Claude Van Damme who's in need of some weapons grade plutonium. This featurette doesn't serve up any spoilers or reveal too many film tricks like so many do – it's all about these former action greats coming together in one cool flick and doing a lot of the action for real.
The film also stars Jason Statham, Yu Nan, Jet Li, Dolph Lundgren, Chuck Norris, Terry Crews, Randy Couture, Liam Hemsworth, Bruce Willis, and Arnold Schwarzenegger.
 The Expendables 2 opens on August 17th, 2012.