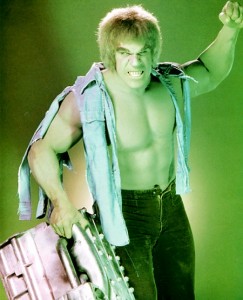 The Hulk continues to be an enduring character of Marvel's comics and though the big screen adaptations have been less than well received, the character has thrived on the small screen.
The popular TV series of the 80′s which starred Bill Bixby as Dr David Banner and Lou Ferringo as The Incredible Hulk, remains a favorite with fans, and with last years acquisition of Marvel by Disney, its sister company ABC Studios is in the process of bringing the iconic character back to TV.
In November 2010, 'Hellboy' director Guillermo Del Toro and 'Battlestar Galactica' executive producer David Eick, struck a deal with ABC to create the new TV series. Del Toro will likely direct the pilot and also oversee the redesigning of the Hulk, but unlike the atrocious CGI creations to date, the series will employ a mixture of prosthetics, puppetry and CGI – blending comic book imagery with elements of the classic show.
Del Toro is currently readying a monster movie called Pacific Rim, and is also on the promotional trail for Don't Be Afraid of the Dark starring Katie Holmes and Guy Pearce.
Fear Net got to speak with the filmmaker and asked about the progress being made on the new series:
Q: Is Hulk still happening?
We turned in the outline to ABC about four weeks ago. And then we did a rewrite for ABC on the outline, and now we are lining up the pages.
Q: Is it safe to assume this will be a different Hulk than we've ever seen before?
I think so. Or we wouldn't be trying it. Actually, one of the points of this project early on with Marvel, was "We're going to do this thing different, and here's how. Are you interested?" And they were.
While a lot can change during development, and a new series is contingent on the pilot being picked up, The Hulk could be ripping through his pants once more on TV sometime in 2012.
Checkout the classic TV series intro here: 
via: MTV