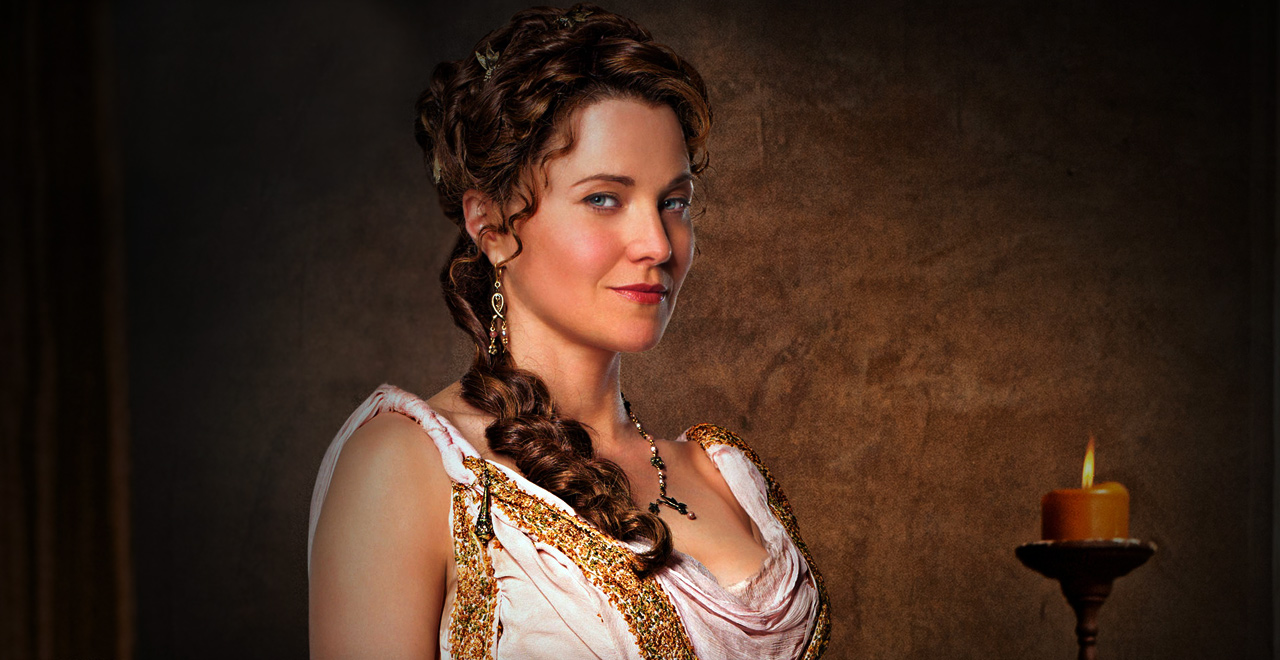 The new prequel series for Spartacus has hit the airwaves in a bloody debut that may just top the original. Lucy Lawless plays Lucretia, the supportive wife to her power hungry hubby Batiatus played by John Hannah.
Now if you haven't seen the first season, the first minute of the prequel does a recap and reveals all that took place in the final episode so you may want to hold off. That said things didn't bode well for the two gladiatorial schoolers as Spartacus (played by Andy Whitfield) led an uprising encouraging the others to… 'Kill Them All!'
Lucy Lawless was on the promotional trail for the prequel show and gave some clues to the upcoming season which is moving ahead without series star Andy Whitfield who was unable to return. Liam McIntyre will be stepping into the mighty sandals which will be no easy feat, so viewers will have to warm to him for obvious reasons.
Lucy also revealed that Season 2 will be called Spartacus: Vengeance, and gives the scoop that even though she looked like she was at death's door in the 'Blood and Sand' finale – it turns out her wounds were never that life threatening and she'll be showing up for the second season.
Christina Radish spoke with Lucy Lawless and here's the zingers from the interview:
Q: So, Lucretia survives her wounds?
For now, yeah. It was just a little poke in the tummy. Put a poultice on it and she'll be all right.
Q: What was it like to shoot that scene?

I didn't feel that I had scratched the surface of what the character was, or that I had done particularly good work. I just wanted to go deeper. But, they gave me such great material in this prequel. My God, I got the chance to go deeper. I think and hope my best work is ahead of me, but I'm really proud of my work in this, and I'm really proud of the show, and to be part of it.
Q: Did you really think there was a doubt that they'd find a way for you to be in Season 2?
I'm in Season 2, but I probably won't be in Season 3. They're bringing me back for Season 2, but I fully expect to die. It's just the best role, ever. My character gets a lot of air time.
Q: Is it fun for you to keep going, after thinking your character was dead?
I'm on borrowed time, though. It's really cool. To go back and revisit things, and learn things about your character, is such a gift. Steven [DeKnight] and his team are geniuses. They've tied up all these things with everybody's storylines. You get to see Peter [Mensah] when he was married, before he became Doctore.
Q: How is it, as an actor, to tell a backstory on a character that you may have already decided a backstory on?
It was a rare pleasure, actually. That never happens, where you get to go back and fill in blanks and actually find out more about your own character. It was a huge thrill for me. And, you get to see these characters when they are in the honeymoon phase of their lives. You also really get to see a lot of Peter Mensah's range. I thought he did a beautiful job in it, and you get to see a lot more of Doctore, emotionally, and more of his history.
Q: Actors usually don't get to be seen younger, except occasionally in flashbacks… What is it like to be playing younger than your character?
I love it. They fix us in post. That's not a lie. But, my character certainly was a bit more bright-eyed and bushy-tailed before her rotten college mate, Gaia, came back and taught her all these bad tricks, played by Jaime Murray. My character did not abuse the servants in the beginning, and she was devoted to her husband. So, you get to see the raw Satan, and that's always fun to play.
Q: What do you love about Lucretia?
I love that she loves her husband. I love that she doesn't fight because I hate the action.
Q: Did you always hate the action?
Yes, I hated it, but I wasn't in a position to say no. Very quickly, I realized that I can't be cringing every time they come and say, "Lucy, would you like to go and learn your next fight?" I haven't even finished filming the last one and I would have to go learn the next. I said, "You know what, guys? Instead of asking me, 'Would you like to?,' just say, 'Lucy, the fight's up.' Then, it doesn't require a response. It just requires me to do what I'm told." If they say, "Would you like to?," it makes me think, "No, I fucking hate that stuff!" If I have a choice, I don't want to go. So. we very quickly realized that it's better to just give me an order and then I'll do it without thinking.
Q: What was it like working with John Hannah again, but in a different dynamic?
It was lovely. He was so joyful. He was in such good form, I think because it was a shorter period of time that he was away from his family. It was much easier for him to be there. He knew everybody and everybody knew what the show was, so I think everybody was much more comfortable in the environment.
Q: So, your character is much nicer in the prequel?
Much nicer, to start with. You can see when Lucretia had hope and trust in other human beings. She was crazy about her husband and she had some sort of faith in humanity, and then you see that eroded over the course of the prequel.

Q: Have you spoken to Andy at all?
We email one another. He's a very spiritual man and he sees things in a much larger context. He's just putting himself and his family first, right now. We want to see him back on screen, somewhere. He's got a wonderful career ahead of him. If it's not this show, there will be something else.
Q:When will you allow your children to see this series?
When they are 103! My daughter actually works in editing. She's 22. Not only has she seen the show, but she sees all of our outtakes. Actually, she tends to turn her back in those scenes. They say, "Daisy, turn your back for 20 minutes," and she goes and works on something else.
Q: What's next for you?
I'd like to do something else, but I don't know. I've just become available, really.
via: Collider